EDIT My pillow case won 1st place! Many thanks to everyone who voted for it. :-)


Happy belated St. Patrick's Day everyone!
This year I again made a project for the annual St. Patrick's Day Competition at Ravelry. The story of my project goes back about 35 years, back to when my Mum and Dad were on their honeymoon. They spent in Ireland and both always told me about it and how much they loved it. My Mum also bought some yarn, which was said to be lost. Fast forward to 2013, where my parents already have been divorced for more than ten years and where my uncle discovered the yarn. It clearly has been knit into something before, but the finished object has been frogged.

I was very determined to make something from the yarn. But what? Nothing wearable, that's for sure, because the yarn is very scratchy and neither of us would wear something in the woolly natural white. I settled for a pillow case, but before I could knit I had to revamp the yarn. It had been stored in very tightly wound balls for about 30 years after all.

At first I weighed it.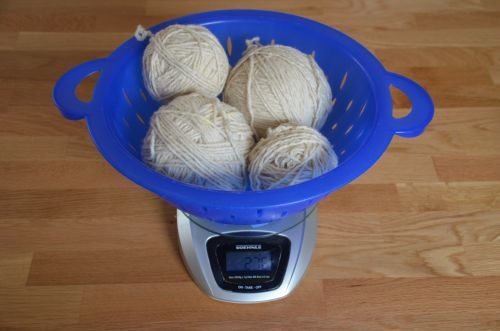 276 grams. Hm. Not that much.

After that I wound it into hanks.




Then washed it.




Put it up do dry.




It looked much better afterwards, you could really see the yarn bloom.




I wound it back into balls again.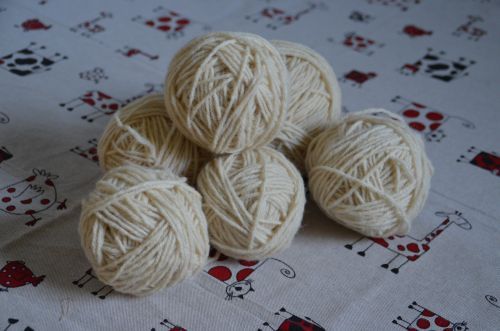 And just because I'm suspicious, I burnt a bit of it an smelled it to see if it really is lambs wool and not some synthetic yarn. Smelled of hair, so I could rule out the synthetics.




I tried to determine the WPI - about 11 WPI.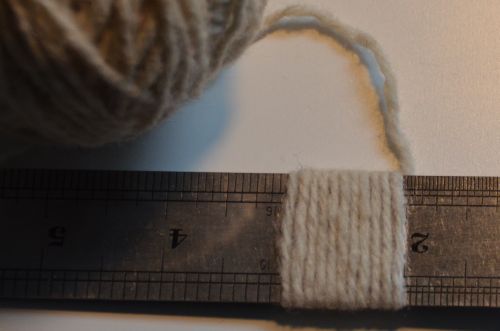 I also tried to determine the yardage, but I must have lost my notes of that.

Now it was time for a gauge swatch. I didn't take a picture of it, and it's frogged already, but it did prove that the kind of pattern I had in mind would look good with 4.0 mm needles.

After that I went browsing through patterns and decided to make one up myself. I had in mind a pillow case that resembles the traditional Aran sweaters, after all, that was what the yarn called for. So I calculated and decided to use three different cable patterns which I then transferred into a chart.




It's not very clear, I'm afraid, because I used different symbols for the same stitch and even made up some symbols, but it worked for me.

And now, the knitting! Sadly, this part was the least fun, because the yarn is, as I already mentioned, quite scratchy and stiff, but I managed. :-) This is what the pillow case looked like when it was unblocked and not yet sewn together.




And blocked, dried and assembled: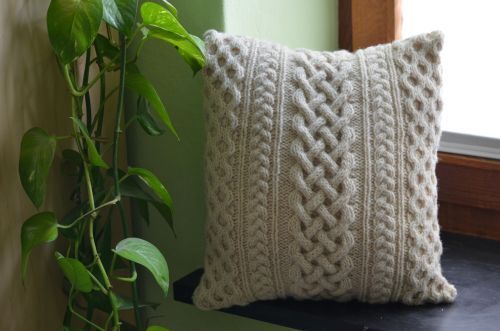 And here is the not so beautiful backside. Next time I'd cast on and knit less stitches for the button band and then increase for the main pattern.

Apart from that I'm quite pleased with how this turned out. :-)